Software Quality Factors & McCall Quality Model
Software quality factors can be divided into three broad measures: operability, maintainability and transferability.
Each of these measures can be further broken down as shown in Figure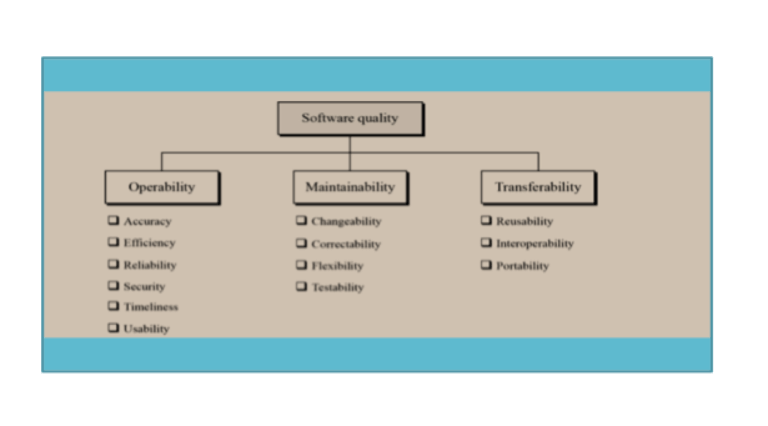 1) McCall (consist of 11 factors, 1977)
2) Deutsch and Willis (consist of 12 to 15 factors, 1988)
3) Evans and Marciniak (1987)
Mccall's software quality factors
McCall software quality model was introduced in 1977 .It is  divided the software requirements into 11 software quality factors.
These are divided into three categories – Product operation, Product revision, and product transition factors.
Product operation factors − Correctness, Reliability, Efficiency, Integrity, Usability.
Product revision factors − Maintainability, Flexibility, Testability.
Product transition factors − Portability, Reusability, Interoperability.
The definition of these 11 software quality factors is given below:
Correctness – extent to which a program satisfies its specification and fulfills the client's objective.
Reliability – extent to which a program is supposed to perform its function with the required precision.
Efficiency – amount of computing and code required by a program to perform its function.
Integrity – extent to which access to software and data is denied to unauthorized users.
Usability– labor required to understand, operate, prepare input and interpret output of a program
Maintainability– effort required to locate and fix an error in a program.
Flexibility– effort needed to modify an operational program.
Testability– effort required to test the programs for their functionality.
Portability– effort required to run the program from one platform to other or to different hardware.
Reusability– extent to which the program or it's parts can be used as building blocks or as prototypes for other programs.
Interoperability– effort required to couple one system to another.
Recommended Articles: